Today's workshops were good too. My favorites hands down were the Neuroscience one and the Dead Men DO tell tales. The neuroscience one first had the history of neuro in just a few slides which was fascinating and then launched into some of the new research, stuff I've never heard of, one using photosensitive proteins from algae to cure mice of Parkinson's (they give the mouse that and then using LIGHT cure them) which has such potential. Talked the induced stem cell project which in theory could turn any patient derived cell back into an embryonic stem cell, again the potential! And talked CRISPR, a way of cleaving DNA which they're already using to clip out HIV virus from infected T-cells keeping them from dying off and descending into full blown AIDS.
Dead Men was a crash course on using hips and skulls to age and sex a skeleton. I DO have several real skeletons in my lab. It could make for a fun lab.
Sadly the Italian study aboard course wasn't what I thought it would be (I've sat through many of his lectures over the years) as there is just no way I could get a study abroad program going in Rio. We're too poor. The other was on 'So You Wanna Be a Doctor' and I thought it was about talking to students about other options which it wasn't except for the last slide. It was more on how they talk to the incoming freshmen and being VERY honest on what is needed (GPA wise, MCAT wise etc). I think I need to get this lecture from her, adapt it for my area statistic wise and give it in the bio 1 class. She talked to me afterward worried she has misled the group with the abstract. I said not really but maybe a little. I DID tell her that telling students that the D.O. program and Podiatry was NOT a viable option as she has listed out on that last slide. Those are REAL doctors and their requirements are every bit as hard as traditional medical school (yes, I was a bit irritated by that slight). Caribbean medical school and Chiropractors are better options for the wanna bes with less than great grades (I'm not saying they'll be bad doctors but their GPA requirements are MUCH lower, you don't even want to know how low the bar is set for Chiro).
I got home and checked my email (as I had time to kill before my evening tour) and the tour guide who stood me up on Wednesday (and frankly Thursday too) had emailed me back after I sent an email last night to officially cancel tomorrow's tour, asking 'did we do something wrong?' Yes you twit. You didn't show up either night NOR answer my calls.
I wish I hadn't been too exhausted in the nights previous because what looked so distant on the map was literally just around the block. It would have saved me from eating at Olive Garden and PF Chang's. Sigh (I prefer local eating over chains). Tonight I went to Settobello, Neapolitan pizza. I got one with olive oil 'sauce' panna (creamy cheese) mozzarella, tons of garlic, basil leaves and prosciutto crudo. It was amazing. I also made the bad choice of getting gelato (because lactose intolerance) here's hoping I don't have any distress on the trip tonight. I had cream baci (chocolate with hazelnut chunks) and panna cotta (cream with chocolate chips). SO damn good.
ETA – The trip was lovely. Half of the people on the tour were other fellow con goers (including the artists for one of the text books I'd like to use if I had sole choice). Three of them had been ripped off by the same guy who ripped me off (but they went thru viator who REALLY needs to remove this guy). This tour guide tried to help them get their money back and said the other guy actually has an arrest warrant out for him (not sure I can trust that). This guide was great. He knows his birds. We saw pelicans, ruddy ducks, black legged stilts, yellow headed black birds, muskrats and pronghorn antelopes.
The lake smells like dead shrimp because it's FULL of brine shrimp (You know, sea monkeys). I had to kick off my shoes and wade out there. Cross that off the bucket list. On the way out a Navajo park worker came to say hello. He was pretty shocked to hear me return his Yatahey and refer to him as Dine (I know like three words in Navajo and that was one of them). He was nice. And oh two of the people on the tour were from Italy. I feel a little bad because the guide was trying hard to recruit more people to my tour of the mountains tomorrow. I sure hope I'm not alone on that thing because I would feel bad for making them run out there for just me.
Not quite sunset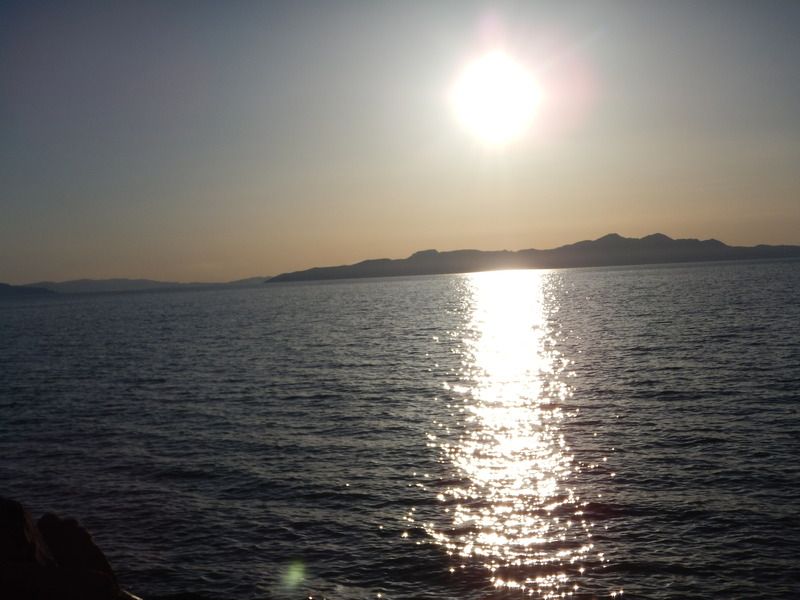 Saltair III the original was build in the 1888s a resort. It burnt a few times. this came in the 1980s and the next year it flood to the second story for 4 years. Now it's a concert hall.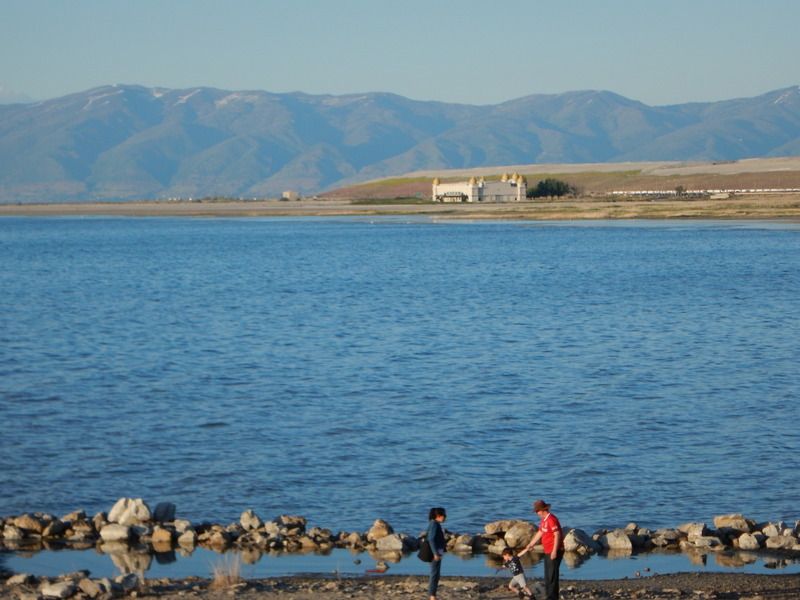 You can see brine shrimp around my fingers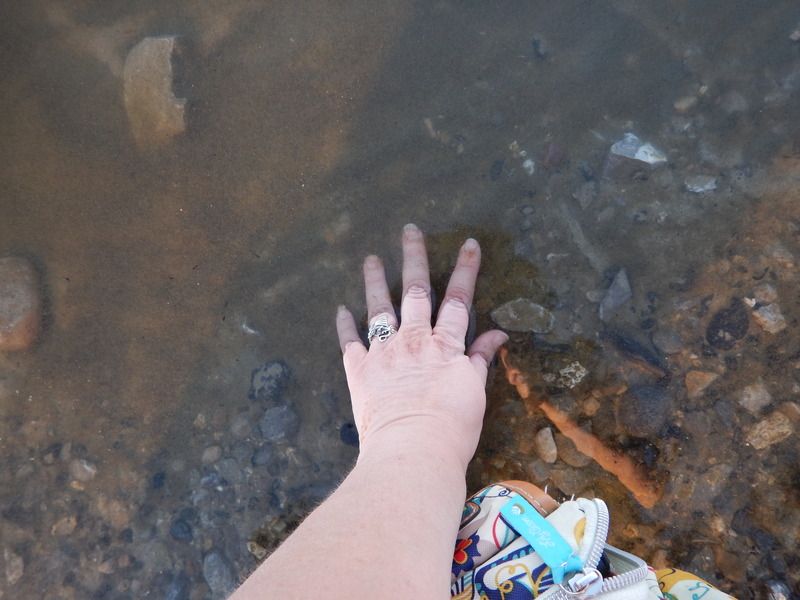 Way to have your eyes shut.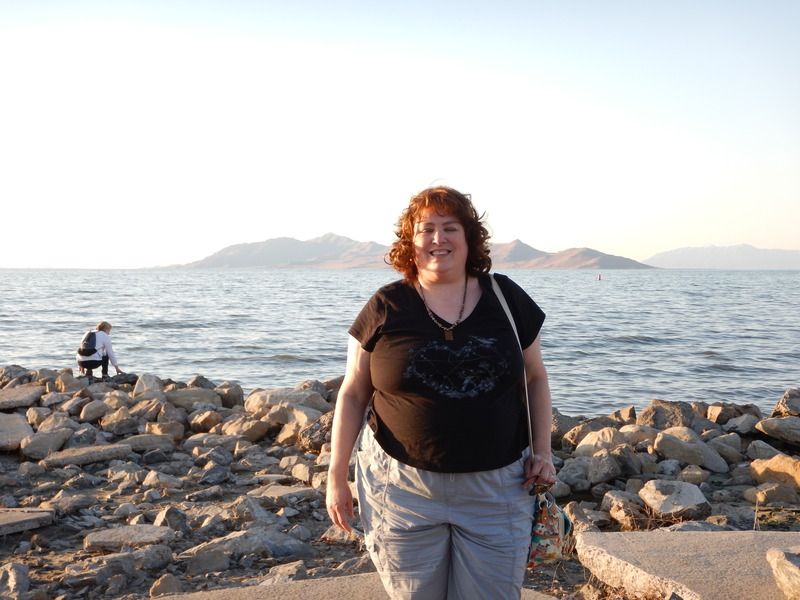 I was salty to my knees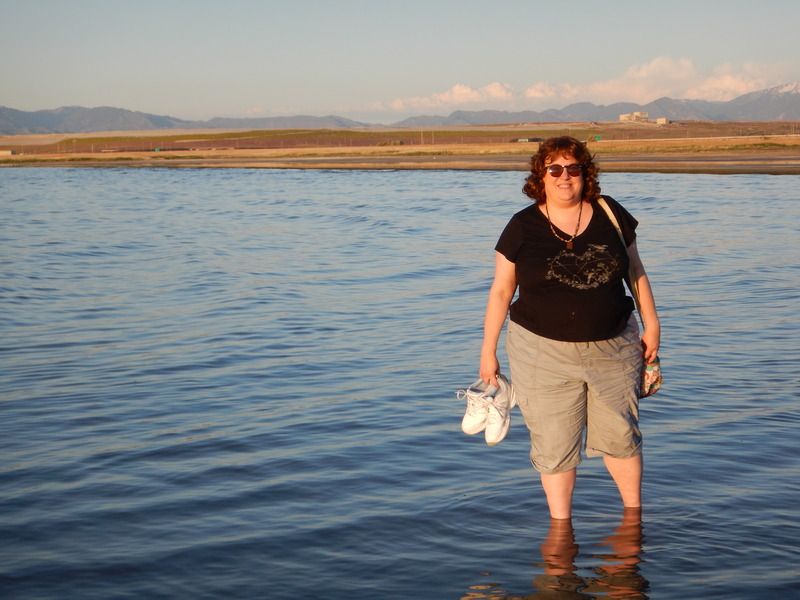 Setting sun (you can see that green orb so it must be light playing off my lens)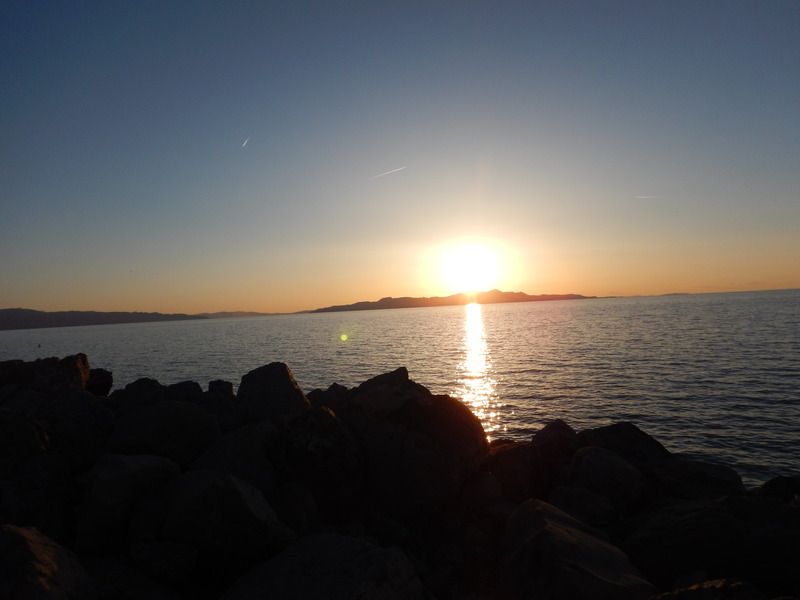 Almost gone